Get in touch with us at Go PRO Spain
We value your feedback and enquiries. Please get in touch with us with this form or email us directly.
When writing to us, we kindly ask you to provide the minimum of your name and your email address.
A member of the Go PRO Spain team will get back to you within the next 24 hours.
---

For all Go PRO Spain's news, great offers, superb new galleries, competitions, plus your chance to upload and show off your own underwater photos, please come and join as a dive buddy on Facebook!
For more information or to book your PADI Pro course:
Call: (+34) 600 506 526
Email: dive@simplydiving.com
…Or come and see us!
SIMPLY DIVING HEAD OFFICE
Carlota Alessandri No 25
Aloha Bloque No 5
(Opposite the Hotel Kris Princesa)
Torremolinos 29620
Málaga
Spain
Telephone: (+34) 600 506 526
Email:
dive@simplydiving.com

Facebook:
Join our group
Blogbook:
Read the latest

Meet The Mentors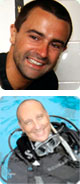 Meet the PADI COURSE DIRECTORS who combined together offer well over 6,000 logged dives and nearly two decades of teaching experience from all over the world to help you achieve your PADI Pro goal…