WHY
Go

PRO

Spain

?

Turning your favourite sport into a profession can be incredibly rewarding. To be able to help others take their first breaths underwater is what you call real job satisfaction!

Simply Diving Go PRO Spain is Spain's only British-run PADI 5 Star Career and Instructor Development Dive Centre – the absolute highest award PADI gives to any dive centre, for all-round professionalism and high standards in training and dive services.

For more than ten years, Go PRO Spain – situated in the heart of of Spain's Costa del Sol – has been training dive teachers to reach the top of the PADI Pro ladder. We boast a 100% SUCCESS RATE and most of our former students have gone on to work across the globe from as far as Australia to Mexico! You can hear from them on our Testimonials page.

Not only does completing your IDC in Spain offer great value, but we are also situated less than ten minutes from Malaga International Airport, which is around two hours away from most UK and European major cities. All budget airlines fly here.
OUR FACILITIES:
Dive centre/classroom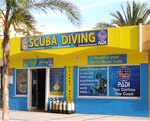 Our 5 Star CDC Centre was fully refurbished in 2011/2012 to accommodate our students and to conduct our training in perfect comfort. Our spacious, on-site, multimedia classroom is designed to make your learning as comfortable as possible. Wifi is available free of charge too.
Transport
Our fleet of three modern, air-conditioned minibuses will transport you and your equipment to the training sites so all you need to worry about is sitting back, relaxing and focussing on your next teaching presentation.
Swimming Pool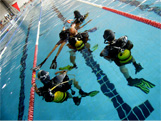 All Confined Water presentations, rescue scenarios and skills practice are completed in an indoor, Olympic-sized, heated swimming pool. There are changing rooms and hot showers, plus as much space as you could possibly need to set up your equipment and brief your divers at your leisure.
Equipment
As a Scubapro SEA centre (Scubapro Educational Association), any and all of your equipment needs will be met by the most modern and well-serviced kit. We update and replenish our equipment on an annual basis. And as an Authorised Dealer we offer all Go PRO Spain candidates a 30% discount from the full Scubapro catalogue.
Meet The Mentors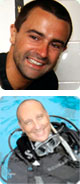 Meet the PADI COURSE DIRECTORS who combined together offer well over 6,000 logged dives and nearly two decades of teaching experience from all over the world to help you achieve your PADI Pro goal…
Testimonials
Hear from past students themselves on why they are glad they went pro with Go PRO Spain.
Contact Us
Telephone: (+34) 600 506 526
Email: dive@simplydiving.com


Facebook: Join our group
Blogbook: Read the latest