PADI Specialty Instructor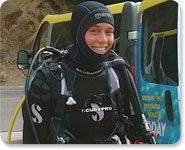 GONE PRO with
Go PRO Spain

For professional training, you won't get any better than Simply Diving Go PRO Spain. A big thank you to Simon and Kev for passing on their experience and knowledge as well as being great mentors and coaches.
Dave Cross,
PADI Master Scuba
Diver Trainer
More testimonials
It's plain and simple: Dive more and teach your favourite subjects. That's the working brief of a PADI Specialty Instructor.
A Go PRO Spain Specialty Instructor Course provides valuable teaching tips for meeting the requirements of each individual specialty course. You can choose from any of the 25 specialty courses offered, from Deep diving to Enriched Air Nitrox.
Having five specialty instructor ratings is a prerequisite for the Master Scuba Diver Trainer (MSDT) rating.
The Cool Part
Whether it's taking your students deep, teaching them how to take great underwater digital photographs, or showing them how best to map a wreck, PADI Specialty Instructors are out there scuba diving and training. Join them and you'll also increase your marketability as a PADI Professional.
What You Learn
You have three ways to become a PADI Specialty Instructor:
With Go PRO Spain's Course Director Kev Turner
Use your experience to apply directly to PADI after your IDC
Write your own outline
Taking a Specialty Instructor Training course with Go PRO Spain is highly recommended. These courses – scheduled as an addition to an IDC - provide valuable hands-on training, technique demonstrations, course marketing information, current PADI Standards information and Course Director-level open water training.
What You Can Do
Teach the PADI Specialties you like most!
What You Need
PADI's Specialty Instructor Manual includes the specialty instructor guides for all of PADI's standardized specialties. The outlines are also available digitally on the Specialty Instructor Manual CD-ROM.
Your Next Step
Take five Specialty Instructor ratings to become a PADI Master Scuba Diver Trainer so you can teach and certify PADI Master Scuba Divers.
For more details on PADI professional level courses, or to book a free career counselling session with one of Simply Diving Go PRO's Staff Instructors, call us on (0034) 600 506 526 or email us at gopro@simplydiving.com.
€145,00 Book online now
Please note: All course prices include full diving equipment rental, transportation to and from confined and open water dive sites in one of our air-conditioned mini-buses, light refreshments.
Extras: Educational materials and diving equipment can be purchased from the Simply Diving shop.
Need To Know
Go PRO Spain Courses
PADI Specialty Instructor
FAQs
Have a question before signing up for a PADI Pro course?
Have a read through our FAQs and set your mind at rest.